Ducati Scrambler
Note: All reference below is to the Ducati Scrambler model, the exact same information also applies to the Ducati Monster 797.
This kit is not suitable for the Scrambler Desert Sled model.
Due to the riding geometry of the Ducati Scrambler the rider foot pegs need to be folded up so as not to fail the abba Stand/Sky Lift in operation. The fitting kit supplied for the Scrambler (Top left photo) includes two small "tags" that simply insert under the foot peg hinge (Top right photo) to keep the pegs upright at a 45 degree angle. These are a simple push fit and can fitted in just a few seconds.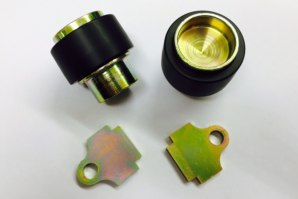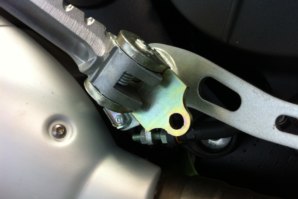 The Ducati Scrambler fitting kit's thorough and well thought out design ensures a safe and secure fitment. Because this model's swing arm pivot nut heads are located deep inside the foot peg assembly both fittings utilise a plastic bush on the outer to aid location and security when fitting.
As you can see from the below pictures, once the tags have been located under the foot peg hinge the footpegs are then held up at 45 degree angle which ensures they will not come into contact with the Superbike Stand or Sky Lift.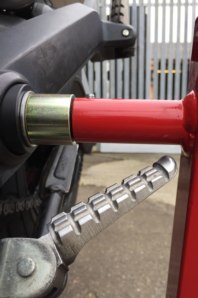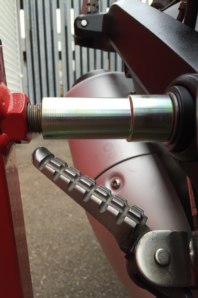 The Ducati scrambler is very limited with regards to paddock stands and lifts available. The steep angled swing arm combined with no paddock stand bobbin mounts means a standard paddock stand is deemed virtually useless! No motorbike lift can be used to raise the bike from under the lower frame area as the engine and exhaust system hinder access. Either the abba Superbike Stand or abba Sky Lift will solve all these issue's....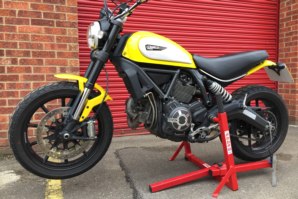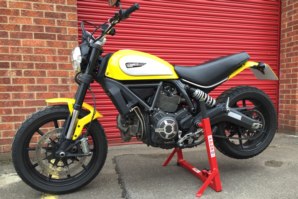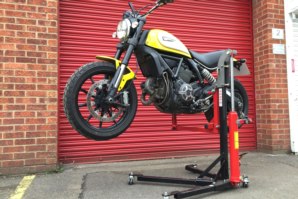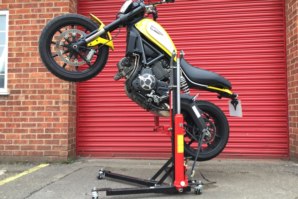 If you require any further information on the this or any other product in our range please do not hesitate to contact us.